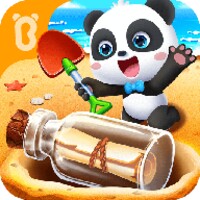 Summer has come and going to the beach sounds like a great plan! Take your little panda and go swimming on Treasure Island, a program that children can enjoy during their holidays. Because the app is so colorful and easy to use, you can allow your kids to play without supervision or even teaching them how to play.
Once you've opened Treasure Island, let your curiosity get you started digging anywhere on the beach. If you want to dig another hole near or far from where you started, or explore a new area next to the last one … the coast is big and there is a lot of space. Every time you dig a new hole, you will encounter all sorts of surprises – starfish, messages on the bottles, crabs, treasure chests and tons of other things.
There is a story behind each of the discoveries you dig, so you will need to contact them to learn what to do with each one. The little fish is gone and wants to go back to the sea, the crab has hurt one of its paws and needs your help to heal, the demon in the lamp wants you to wish, the rest of the things and animals are waiting for you to find them and solve each of their problems.
The game is very simple; you just need to touch the screen area where you want to start the search and move the sand side by side to reveal your discovery. Move around on the beach and don't leave any secrets unresolved on Treasure Island where your kids will enjoy playing for hours.
.