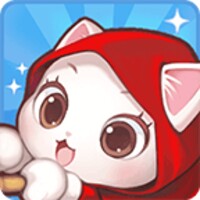 Today's Mart is a strategy game where you get to manage a supermarket that sells all sorts of fruits, vegetables, and other natural products. Best of all, this world is inhabited exclusively by cats. That means all your customers and employees are felines.
The gameplay in Today's March is simple. On the one hand, you have the organic farm, where you can plant different types of crops and take care of different animals. On the other hand, you have the supermarket, where you can sell all your products. To do this, you have to build boxes and displays, and also hire employees.
One of the most original aspects of Today's Mart is that, in theory, it's possible to buy real products through the game to be delivered to your house. Although to do this, you'll have to invest a lot of points in the game. Plus, you'll have to reach at least level seven before you can access this feature.
Today's Mart is an entertaining strategy and management game that stands out for its beautiful graphics. The more you play, the more fruits and vegetables you can unlock, and the more customers you'll attract to your store.