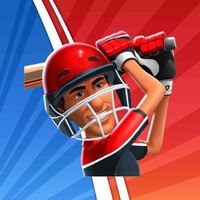 Stick Cricket Live is a 3D cricket game where you can play exciting rounds of this sport, which is very popular in certain parts of the world. You will have to test your skills to score each of the balls and score as many points as you can.
At Stick Cricket Live, you will have the option to fight in exciting rounds against players from all over the world. Thanks to this feature, the game becomes even more exciting when you try to beat each opponent and earn points. This is the only way to unlock new material as you progress through the rounds to help you be more accurate and effective in each of the games you play.
The graphics are very well designed and show all the symbols and parameters in 3D. These visuals will help you feel completely immersed in the game and become more effective as you hit each ball. The controls are simple, so all you have to do is touch the right or left arrow, depending on where you want the ball to go. Plus, the moment you hit it will be important, because you can't move forward or back for sure.
With Stick Cricket Live, you will have to do your best to earn more points than your opponent in each of the rounds that make up each game. If you manage to beat your opponent, you will win and rise to the world leaders table.
.