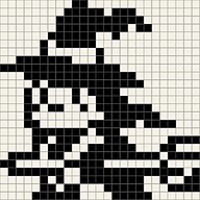 Picross Galaxy is a drawing game similar to Picross LUNA or Picross D with all kinds of cool pixelated designs and lots of levels. Perfect for anyone who wants to take a break and relax while solving nonograms.
Picross Galaxy has simple controls, all you need to solve the levels are two big buttons at the bottom of the screen. The button on the right has a pen to fill in the squares and the other has an X used to mark unnecessary squares. If you think you checked a square incorrectly, click it again to remove it. There's also a set of crosshairs on the left side of the screen to move the board around, which is especially useful when solving big puzzles.
Unlike similar programs, all puzzles in Picross Galaxy are black and white. So you don't have to worry about the color, just fill in the squares or mark them with an X.
Picross Galaxy offers a soothing rain background as well as adjustable volume so that every user has the most comfortable experience possible. Sit back, relax and solve these amazing puzzles!