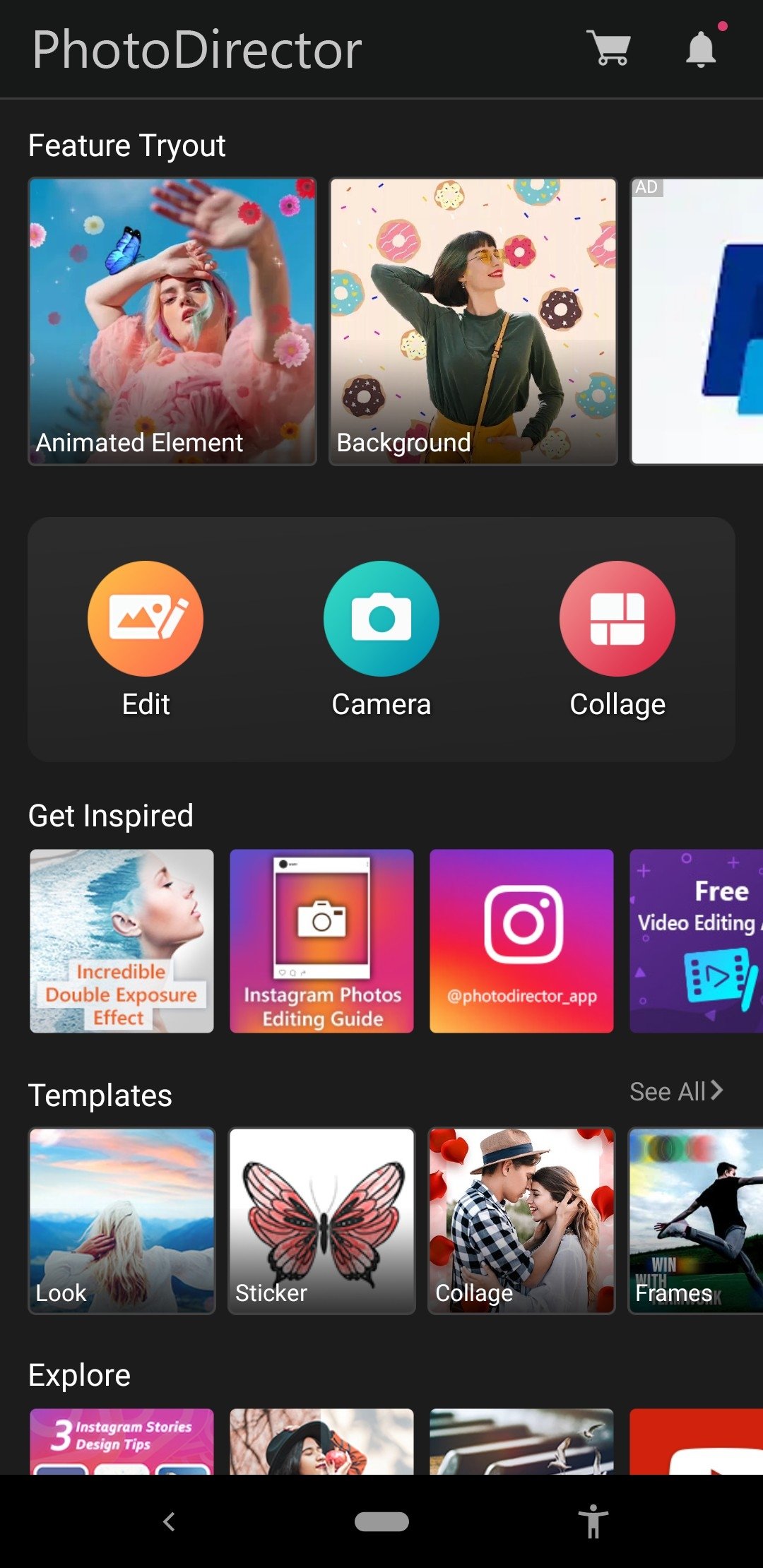 We all love taking photos. There's not a day in which we don't take one. And that's why we need to have at least one app on our phone to edit and enhance our pictures. PhotoDirector Photo Editor App is the younger brother of the PC version, Cyberlink PhotoDirector, and is now available to be downloaded to your phone. If you're wondering what it is and what it can do for you, just carry on reading.
All the functions necessary to edit photos on the fly.
From the main menu, you'll be able to access the editing mode, the collage mode, and the camera mode. From the camera, you'll be able to edit the photos you take right away, modifying the colors, focus, sizes, formats, filters, effects, quality, shutter, rear or front camera, zoom … Everything you need to bring your photos to life. From the collage section, you can create wonderful montages with your photos. To access the template gallery, just press the + button and you'll see all the compositions available on PhotoDirector, sorted by the number of photos you want to insert (from 1 to 6).
Apply live effects whilst you take a picture, and use a wide range of advanced camera functions.
But the best part of this application is its editor. You can do almost anything, always within the limits of a tool of this nature. Focus and blur effects, filling effects, write text, stickers, frames, scenes, overlaying, splashes, cropping, mirror effects, mixers, removal, fisheye, basic color and brightness settings, and of course, loads and loads of filters. One of the best features is the mixer that allows you to mix your photos with those provided by PhotoDirector, but with loads of customization options.
If you like the app, go for the premium version
With the premium version of this app, you'll have access to exclusive tools:
Removal of unlimited contents.
Possibility to save images in a resolution higher than Ultra HD 4K.
Removal of the logo or watermark of PhotoDirector from frames and collages.
Removal of adverts.
If you've already got the suite version of this program for your computer, you can use the activation code to use the compact version. The number can be found on the logo of the top left corner of the PC program by clicking on the option to get the mobile application.