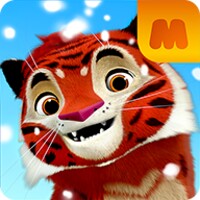 Lead a band of forest animals as they journey through the heart of the jungle and build their new home in the fun action adventure game for kids Leo and Tig: Forest Adventures.
This fun adventure game has simple gameplay: just choose a forest animal (such as a tiger, lion, wild boar, etc) and start walking though the jungle. Each animal has special qualities that make it unique, but no matter which one you choose, your mission is to follow a trail of bright lights through the jungle to the great Taiga Tree and other secret places with hidden treasures and adventures. However, it won't always be as easy as following the lights, because like any good wild jungle, the path in Leo and Tig: Forest Adventures is full of all kinds of obstacles, and you'll have to figure out how to overcome each one. For example, if there's a huge round rock blocking the path, roll it off the trail, or if you run into a dense thicket of ferns, swipe your finger across the screen a few times to brush them out of the way. Not only that, but you'll earn incredible prizes as you complete the game's goals!
Overall Leo and Tig: Forest Adventures is a fun, interactive game with charming graphics. Have a blast discovering discovering all the secret paths and hidden treasures with the forest animals!