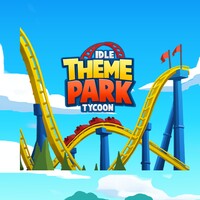 Idle Theme Park Tycoon is a fun management game that puts you in the place of a successful amusement park.
The games at Idle Theme Park Tycoon are very simple and very similar to those of any other clicker, although this time you will not need to touch the screen to earn money: your modest amusement park opens its doors with an attraction. You will need to upgrade by investing a small portion of your ticket sales. Each upgrade increases your earnings a bit, and after a while you can invest in new and more attractive walks. In addition, thanks to the rating system, which is very similar to what you find in the feedback program, you can always see what visitors to your amusement park think.
One of the most interesting features of Idle Theme Park Tycoon is that almost all the elements in the park can be improved, which gives the game a lot of life and replay. There will always be something you can invest in, from the bathroom to the parking lot.
All these features, which work very well together, are perfectly combined with the magnificent, elegant and minimalist graphics, full of details that add a lot of personality to the game, which is already fun and attractive.
.