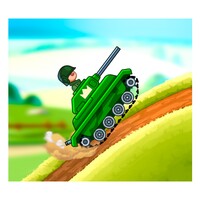 Hills of Steel is an addictive game where you practice your aim and destroy your enemies from inside a powerful tank. If you're looking for an online multiplayer game with quick rounds and tons of action, this game will keep you entertained for hours. Throw yourself into battle and destroy your rivals one by one.
One of the best parts of this game is its simple moves. In this adventure, you make your way around a hill searching for your opponents by moving forward or backward, aiming carefully to ensure contact, and tapping a button to shoot and destroy. The difficulty of Hills of Steel lies in the fact that the hill is full of steep slopes and sharp turns that affect the way you move your tank and shoot as well.
In Hills of Steel, you can play one-on-one or two-on-two, either fighting against other users online or in classic mode, where most of your opponents are controlled by AI.
You can also improve your tanks and their abilities for better durability and power. Win battles and open chests to find the cards you need to level up your tanks. Get ready for quick, action-packed rounds where you shoot from your tank!