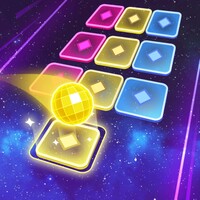 Color Hop is a 3D addictive music game where your goal is to get your ball to the end of each level by keeping time to the rhythm of the music. Although it sounds very simple, you can't really relax for even a second, because the ball moves very fast.
The controllers in Color Hop 3D are very simple. All you need to do is press the screen and slide your finger from left to right to direct the ball. At the beginning of the game, a song is played in the background. In the meantime, the ball will start to jump towards the goal in the foreground. As he jumps from point to point on a long path of colorful platforms, you'll have to watch him carefully to steer him in the right direction. Basically, the most important thing to remember is to make sure the ball doesn't fall into the gap and always land it on the platform that matches the color of the ball at that moment.
From time to time the ball bounces off a platform of only different colors that do not match. In this case, even if the ball changes to a new color because you can not choose, your game will continue without problems. Thus, from that moment on, the ball can only bounce on platforms that match that new color. All this happens at an increasingly fast pace in accordance with the rhythm of the music.
Color Hop 3D combines all the fun of headlines in this genre – testing your reflexes – with a careful selection of EDM songs, a musical and addictive gaming experience.
.