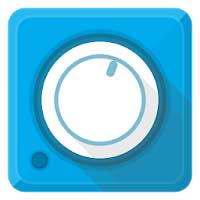 In fact, it's a lightweight music player with folder view, equalizer, song crossover, and video playback capability.
Again, the most notable features are the audio visualizer and easy HD video production.
Although all visualizers can be widely customized – color / shape / size / audio reaction / your own image and more adjustments. You can also import and export visualization templates as a file, and find better quality versions that are different from the standard versions shared online.
Features:
The most popular media formats are supported
Browse the folder directly with folder shortcuts
Customizable audio visualizers.
Export the visualizer as an hd video file.
Searchable library, queues, files, …
Screen orientation lock
Read and remember playlists (pla, pls, mpcpl, plp, m3u, m3u8)
Lock screen and status bar widget
Supports media and blue-tooth controls
Sleep timer
Equalizer
Diagonal pale and gapless transitions
UI colored skins
2 types of internal players
Special note about microphone permission:
Although this application requires Microphone permission, it does not access the microphone itself to listen to audio from the device, but uses this permission to access global audio streams at the application level. It is used by the Native reading engine and is currently maintained only for compatibility reasons.
Music seen in screenshots,
Provided by NoCopyrightSounds:
Aero Akkord & Anuka – Natamam
Anikdote – Imma Killa
Axol & The Tech Thieves – Bleed
Axtasia – Light Up The Sky feat. Soundr
Culture Code – Make Me Move (Tobu Remix) feat. KARRA
Different Paradise – Necozilla (LFZ Remix)
Disfigure – Losing Sleep (feat. Tara Louise)
Egzod – Paper Crowns (ft. Leo The Kind)
Egzod – Wake Up (feat. Chris Linton)
Ellis – Migren (feat. Anna Yvette)
Giraffe Staff – Wait for me
Icehunt – Hover (feat. Helen Tess)
Kasger – From here
Killercats – Tell Me (feat.Alex Skrindo)
Leowi – Hollywood (ft. Joegarratt)
LFZ – Popsicle (Original Mix)
Rameses B – Beside You (feat. Soundr)
Rivero and Anna Yvette – Paradise
Ship Wrek Zookeepers & Trauzers – Ship
T & Sugah – Sleepless (ft. MVE)
TARI & Yix – Happiness
T-Mass – Bow and Arrow
T-Mass & Jaxxtone – Gave it to me
TULE – Fearless
TULE – Lost
Unknown Brain – Ilham (feat. Aviella)